Buy a Diver Knife, Review: the Omer Mini Laser
What is important about a diver knife?
The knives are very important during spearfishing and diving. Normal divers are often huge and even daggers, they are completely unsuitable for spearfishing. A useful knife is available for 15-40 €. In my opinion, diving knives have three important aspects.
Size
The handle should have a maximum hand length. The smaller and pointed the blade the better the fish can be killed. The fish should be killed by a targeted stitch in the neck just behind the head, thereby the spine is severed. Do not take the fish from the spear before killing, often it happens that the fish escapes with the smallest fins and saves itself under a rock where he dies agonizingly. After the spine is severed, you can safely release the fish from the spear.
Handle
Should give a firm hold, a rubberized handle is a good choice.
Features
A saw as well as a rope cutter is mandatory. If need be, you have to cut off tangled ropes without regard for the equipment. Furthermore, a simple-mechanism knife holder is a great relief, consisting of an outer-facing release button and a plastic knife edge which have both a holder for a rubber strap band and an eyelet for fastening to the belt. The blade should absolutely be stainless (stainless steel, from the French "Inoxydable", as much as rust-free). Knives that are sold for less than € 15 will not be fair to their reputation of being rust-free, they often show first rusting spots after the first salt water dive.
---
A knife that simply makes happy
A diving knife, ideal for spearfishing. I have already tried many diver knives and so far all the knives were either too long, too short, too unwieldy or simply ripped and rusted away.
With the Omer Mini Laser I finally found a diving knife with which I dive for several years.
You just do not feel safe if you can not trust your knife and confidence comes when diving.
Advantages:
• Material – stainless steel, AISI420
• Total length – 19 cm
• Blade length – 8 cm
• This knife comes with an arm holder
---
Where to buy this is this good piece?:
Omer Mini Laser – Diver Knife with Arm handle*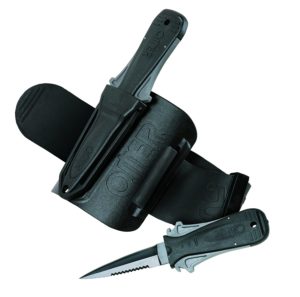 ---
And this is the promised Review Video: