Start/ Learning Spearfishing – What do i need? Tutorial
Hello everybody,
Often, the question is asked what Equipment is needed to learn harpooning / Spearfishing and since I did not get this question answered reasonably at the start I would like to introduce my equipment once. The question "What do I need" is explained in the Youtube video again in detail, I go to all the equipment and explain you exactly. Detailed equipment recommendations are below.
Further more detailed and for advanced people you find a list of spearfishing gear that I use in this Guide: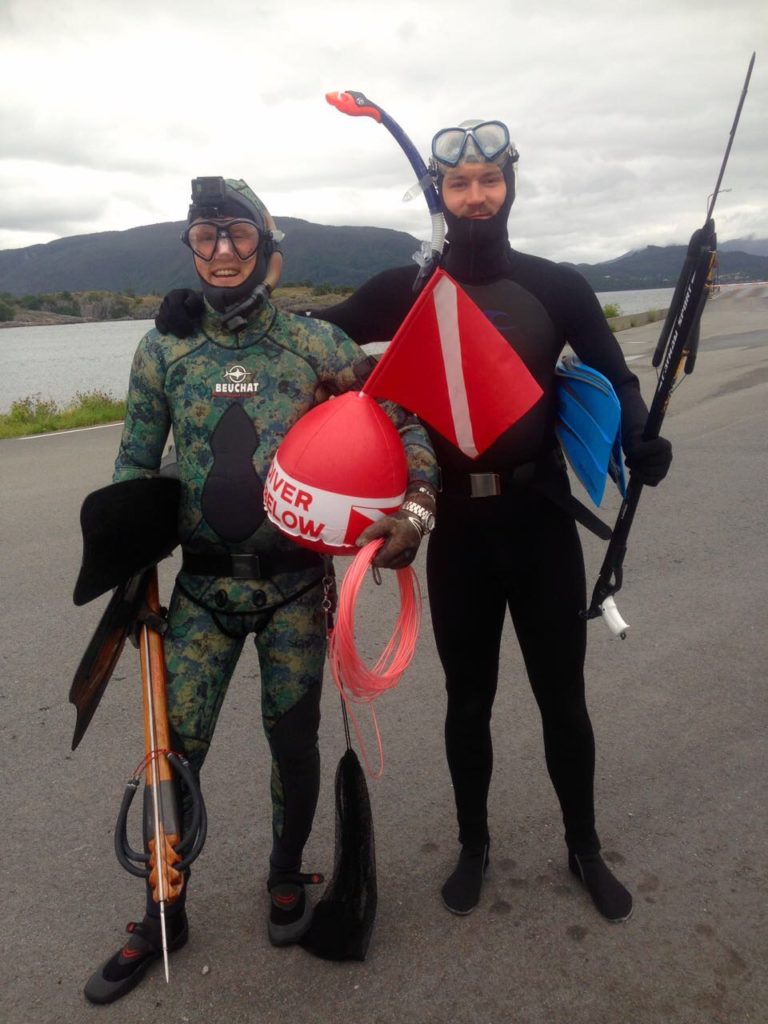 ---
Spearfishing Spots – Guide
I have written a long guide, which you can buy in my shop. Here you will find a lot of basic things about spearfishing, useful links and tips and above all a tutorial on finding spearfishing spots and creating your own spearfishing map. This will help you to improve your hunting quickly and efficiently, and above all, not to go home empty-handed.
Furthermore, you will find many different spot maps from all over Europe, which I have collected over many years.
Harpune.info – Spearfishing Guides & Maps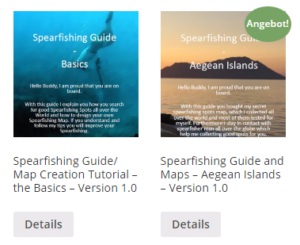 ---
The Equipment
Neoprene
The most important thing in terms of neoprene is the thickness, this determines significantly the insulating ability. If you want to stay in the water for at least 2-3 hours, I recommend the following rule:
Which neoprene thickness should I choose?
With expected water temperatures of 0-15 degrees, I recommend a neoprene thickness of 8mm.
With expected water temperatures of 15-22 degrees, I recommend a neoprene thickness of 5mm.
At water temperatures over 22 degrees I recommend 3mm or the "Adamskostüm".
Diving gloves
Neoprene gloves -> in my eyes an absolute duty, anyone who once loosed the Speargun rubber, has bitten a moray eel in his hand, or even just cut his hand on a coral knows why. Who buys cheap, buys twice (own experience).
Cheap and fast on Amazon:
O'Neill Wetsuits Adult Neoprene Diving FLX Glove, Black*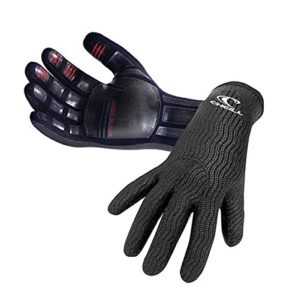 Neoprene Shoes
Again, who buys cheap buys twice, good diver shoes last a long time, one tears when in the water do not walk up the feet. I have my 8 years now. In the meantime, I have experimented a lot with neoprene socks and other variations, but have always returned to my shoes.
Also cheap and fast on Amazon:
Mares Unisex Dive BootsClassic*
Lycra Shirt – Sun protection for Spearfishing
Lycra is a very stretchy and durable material. Lycra is synonymous with elastane / polyamide fabrics in swimwear and fitness. Shirts are made from this material. The advantage of these shirts is that they keep you warm in spearfishing in warm water. They also protect the Spearfisher from venomous cnidarians. A dark Lycra shirt keeps you warm longer than a white one, due to the absorption of solar radiation. If the water is over 24 degrees Celsius, then I reach for my Lycra shirt. If it is colder, then I grab a wetsuit, as this means better protects and keeps warm. Nevertheless, a Lycra shirt is a must in any Spearfisher equipment.
I got my Lycra gifted from my girlfriend, you can buy it cheap on Amazon:
Mares Mens Trilastic L-Sleeve Rashguard Shirt – different Sizes*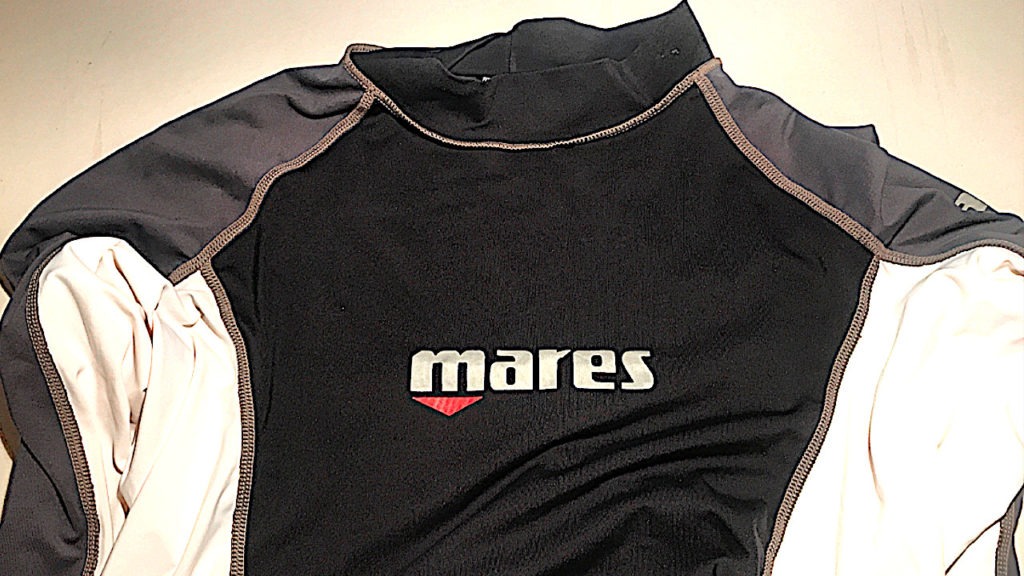 Wetsuit – Neoprene Suit for Spearfishing
The suit (often succinctly called a rubber suit) is a touchy subject; ideally it should fit exactly. I prefer 5mm neoprene thickness, so I hold it in 10 degrees cold water for 2 hours and then you have no desire any more. When wearing the suit, you should make sure that he has reinforcements in the knee, elbow and especially chest area. These so-called Breastplate help tremendously with the harpoon tension and prevent painful impressions. If you buy a suit, make sure it has a hood. Man loses the fastest and most heat over his head. No matter how good a suit, it will not do you any good if it does not have a dive cap.
Important when choosing the wetsuit is to make sure that the suit is a Freedive suit or Apnea diving wet suit. These are characterized by the fact that they have a different distribution of neoprene thicknesses in contrast to swimming suits. Swimsuits have thicker neoprene at the leg end to pull the legs to the surface, we want to achieve exactly the opposite in the apnea / freediving / harpooning.
Personally, I own a two-parter, before diving just spray a bit of soapy water in the suit and he is super easy to put on (and you come as freshly showered out of the water). The color is in my opinion a matter of taste and plays less of a role in fish behavior, with black you are well served and it is not so cold in the water. In the Spearfishing area also so-called camouflage wetsuit pattern suits are offered. I go hunting with myself, but have never noticed a difference.
What is the price of a resonable Spearfishing wetsuit?
With a suit I would invest between 100-200 € minimum, also here is the rule who buys cheap, buys twice and mending holes also makes little fun.
For example, a good spearfishing suit of a reputable brand (Cressi) can be found here:
Cressi Neoprene Wetsuit – Apnoe – Apnea – Spearfishing – 5 mm, black*

Here you will find a budget version of a Spearfishing / Apnoe Camo wetsuit, this looks great from the description, but it is not a brand product and will be from the processing rather not as good as the above mentioned Cressi suit.
You can buy the suit here:
Nataly Osmann Camo Spearfishing Wetsuits – Adult – 3mm*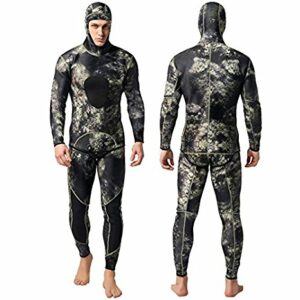 ---
Fins for Spearfishing & Freediving
Also, the fins are a frequently discussed topic, I own Gara Modular fins, one size larger, so you still fit well with neoprene shoes. Anyone who has ever had an apnea fins will never want to dive with small short fins. You can think about carbon when you do the sport for a long time, but I think the Garas are the OPTIMAL entry-level fins. They are not expensive, you can disassemble them, so you fit in every suitcase and you are not sad at all once you have a scratch.
One thing to keep in mind is that apnea fins are not simple snorkling flippers, paddling on the surface is much more strenuous with long fins than short ones, but the effect underwater is amazing. Try it and love it.
Aswell available on Amazon:
Cressi Gara Modular, Premium Fins for Apnoe diving – Apnea – Freediving – Spearfishing – Changeable Fin Blade*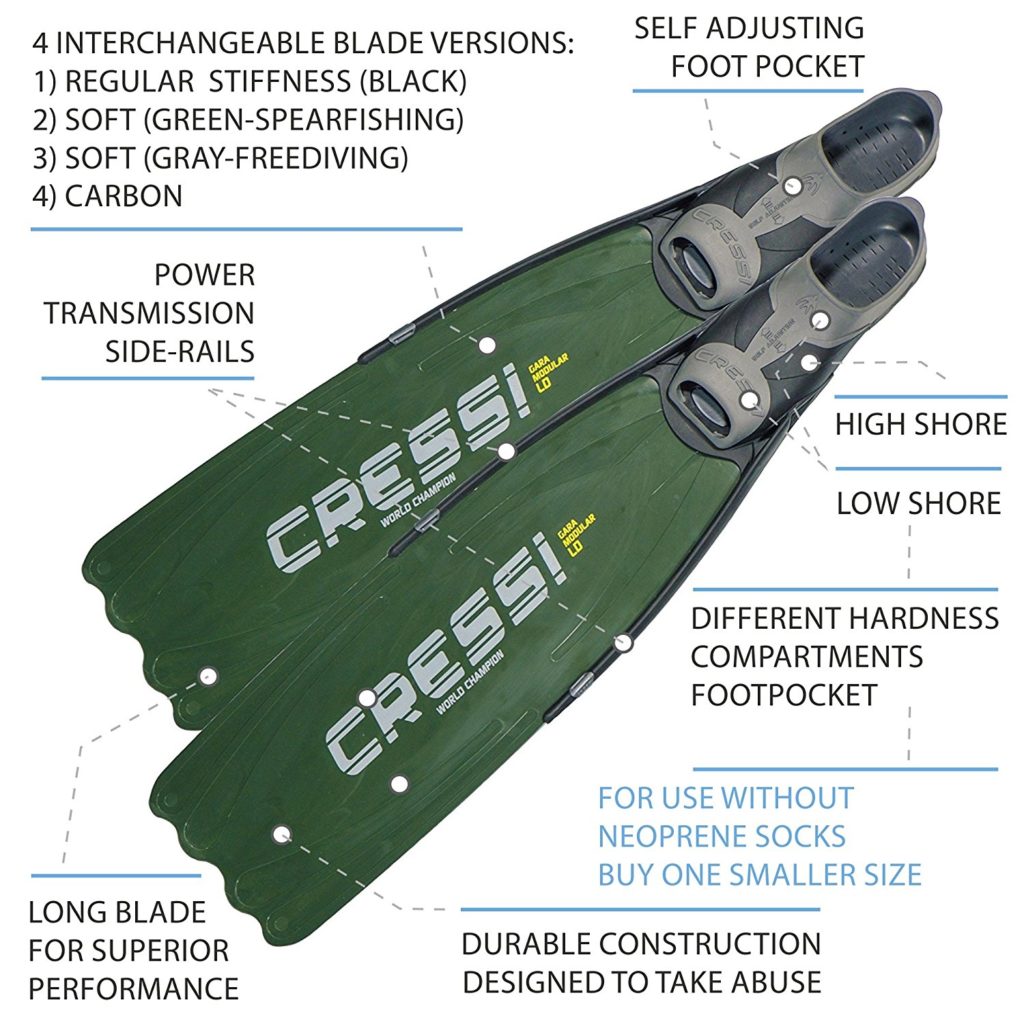 ---
Dive Computer – Diver Watch for Spearfishing
A dive computer or a dive watch ensures my spearfishing primarily for safety. If I go to Spearfishen, then I agree with my girlfriend or friends, a precise time, until when I'm back at the latest. I use my watch as a life insurance underwater. You should stick to such agreements exactly. Furthermore you lose in the water quickly the sense of time. If the session is exhausting, minutes can seem like hours. If you fish for fish, hours are minutes. In order not to slip into the danger of a physical strain here is the clock when Spearfishing duty.
If you are looking for a good watch that you can wear in the water, then I recommend the Citizen Promaster. For less than 200 € you get a lot here. The watch looks even great on land. The automatic has a power reserve of 2 days. The watch is waterproof up to 200 meters depth. Furthermore, the clock was ordered by the Italian Navy to equip its sailors with the clock. I love this watch and would buy it again and again. It is ideal for spearfishing sessions where depth, time or temperature are not what matters most. Ideal for the holidays.
If I'm going to spearfishers and plan to dive to greater depths (10-20m), where there's still bad visibility, the temperature is cold, then I can not leave without my Chris Benz Depthmeter. This watch is actually designed for scuba divers. Nevertheless, it can also be used without problems in spearfishing, freediving or freediving. In her two small digital fields she logs many different dive data: maximum depth, average depth, water temperature, time in water, time under water. Furthermore, it has various alarms, which are adjustable for different depths: decompression alarm, alarm when reaching a certain depth. Additional functions such as two adjustable time zones, a stopwatch and a built-in alarm clock make this watch perfect for me as a perfect combination of everyday clock and dive watch.
I recommend the Citizen Promaster as a pure watch for underwater and as a dive computer I recommend the Chris Benz Depthmeter:
Citizen – Wrist watch – Men – Promaster Sea Analog NY0040-09EE*
Chris Benz Depthmeter – Diving- Digital – Steel CB-D-NEON-MB*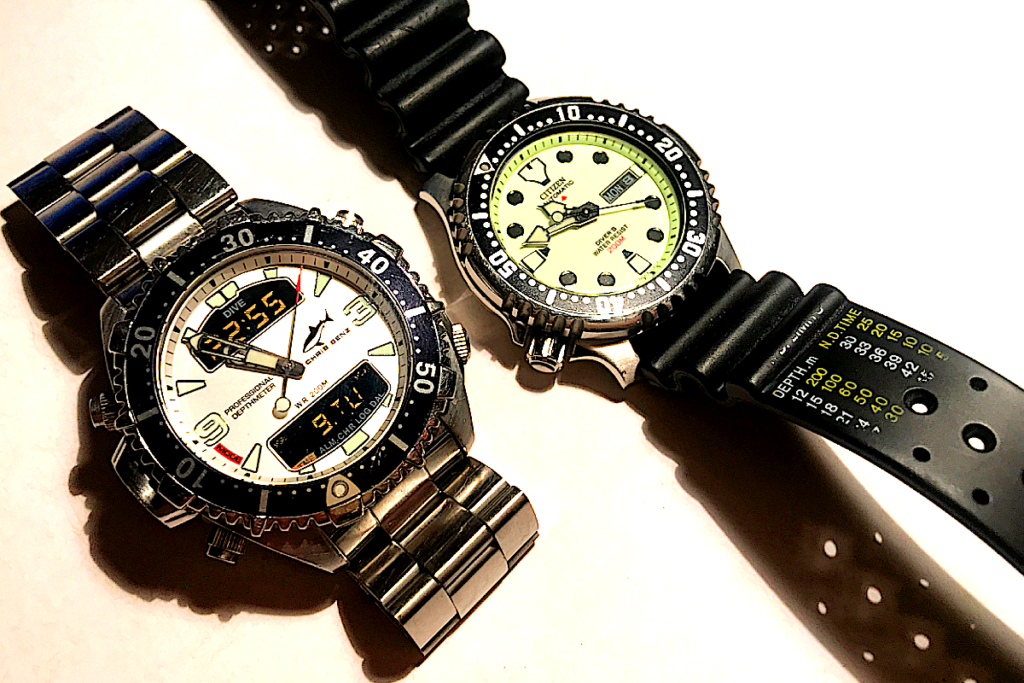 ---
Diver Knife for Spearfishing
Also here again: absolute duty and who buys cheap, buys twice (cheap knives simply simply rust away). Personally, I have the Omer Mini Laser, a diving knife with a great closure, quickly plugged away, if you take good care of it (always rinse off with fresh water to the sea). For what you need a knife? It is your life insurance if you get tangled and a fish does not fall by itself death;)
Cheap and fast on Amazon:
OMER Mini Laser Diver Knife – Diverknife*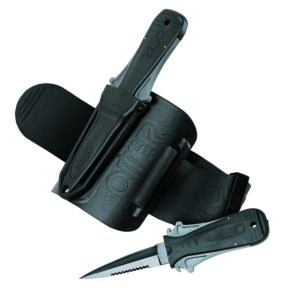 I've written a separate blog post on the topic of diving knives, which you should read if you are interested in knives. There, the detail of the knives will be discussed again and explained in more detail. You can find the article here:
---
Buoy – Spearfishing Float
Also absolutely necessary again, I do not dare to go into the water without a buoy. She is here to signal to traveling messengers that someone is diving. Underwater, it is extremely difficult to tell from where and to what direction a boat is moving. Second advantage: you simply hang your fish and the like on the buoy and less so in your movements. In many countries, such as Italy, France and Greece are required by law to fly a buoy with an alpha flag and if you have no threat of severe punishment.
Einfach und praktische Boje:
Mares Adult – Boje Buoy for Spearfishing – TORPEDO, Orange*
If you want to travel longer distances, you can consider getting a so-called diving float. At this raft you attach the whole "Kladderadatsch" (German word for heaps of Stuff) you want to take with you. These rafts are more expensive to buy but much higher in terms of workmanship and design. If you are interested in Spearfishing in the long term, it is worth thinking about buying a raft.
Seac Seamate Buoy – Diving float – Raft for Spearfishing*
---
Diving Lead belt & lead
Without a lead belt you go up with a wetsuit like a cork, a lead belt extends the dive time immensely, because you do not have to fight the buoyancy. However, a beginner should NEVER dive with lead without detailed instruction as it fundamentally changes diving behavior. I need with my 1.86m and 85 kg with 5mm suit about 6kg of lead and without suit 2kg of lead in salt water, in fresh water, the buoyancy is lower and you need less lead. At the lead belt, a so-called Quickrelease Buckle is required, it allows to throw off the lead in emergency situations within seconds.
Quick and dirty on Amazon:
Cressi – Diving lead Belt – Diving Belt – Quick-Release Buckle*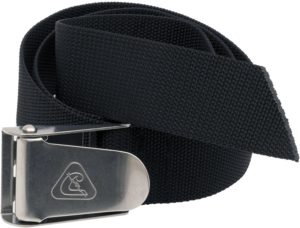 Better still than a braided lead belt is a rubber elastic belt (Elastic Belt), these are a bit more expensive but do not slide down when diving and thus do not press on the diaphragm, here it is worth the few euros more in the hand , again cheap on Amazon: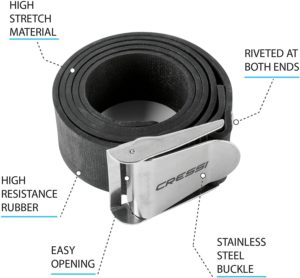 Cressi Marselillas – Elastic Belt Diving – Diving Belt – Black – Quick-Relase*
Lead for the Diving Belt you can buy here:
A tutorial on how you can easily and cheaply melt yourself a dive lead can be found in another article from me:
---
Diving mask and snorkel
The theme of choosing the right pair of goggles and the matching snorkel is quite extensive. That's why I've written a more detailed article here. In the following article you will find everything about the characteristics of a mask and the snorkel, which you should pay attention to.
---
Filming – Underwater Camera – Equipment
Here you will find everything about underwater filming. Which camera is good and is waterproof to a sufficient depth of water? What equipment is needed for the camera? Which memory card is right for underwater hunting and why the hell are the most underwater shots so bad?
GoPro Hero 4 Silver – ideal for Spearfishing
If you like Spearfishing, the desire to shoot some nice hunts and fish quickly ensues. I have been using the GoPro Hero camera for underwater filming for many years. This camera simply has an incredibly good resolution and color quality. In addition, they have a high durability. The newer models are unfortunately no longer able to dive deeper than 10m depth. For many, that may be enough, but I still reach depths of 12-15m depth during spearfishing. Therefore, for me only the older models come into question (up to the 4 model), which is waterproof up to a depth of 40m. The ingenious Quickcapture function of the GoPro Hero makes it possible for the camera to switch on within 3 seconds after pressing the shooting button and start filming immediately. After a second press of the shutter release button, the camera stops recording and shuts off. This feature saves an awful lot of battery life and has often allowed me to film my hunts every day for up to a week without having to reload the GoPro. I personally recommend the Gopro Hero 4 Silver with display, this makes deleting unnecessary material on vacation without a computer very easy. Meanwhile, the GoPro Hero 4 including DiveCase costs under € 200 and makes them really a good investment in great memories.
You get the camera for just under 200 € on Amazon with Dive Case which is up to 40 meters waterproof:
GoPro HERO4 Black Adventure Actioncamera (12 Megapixel) – Wasserdicht bis 40m – Spearfishing*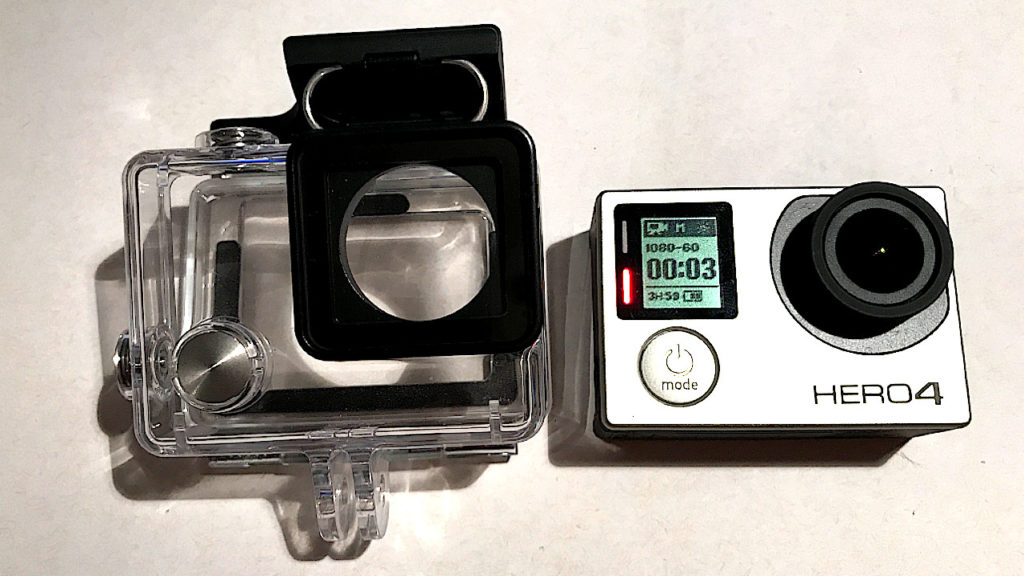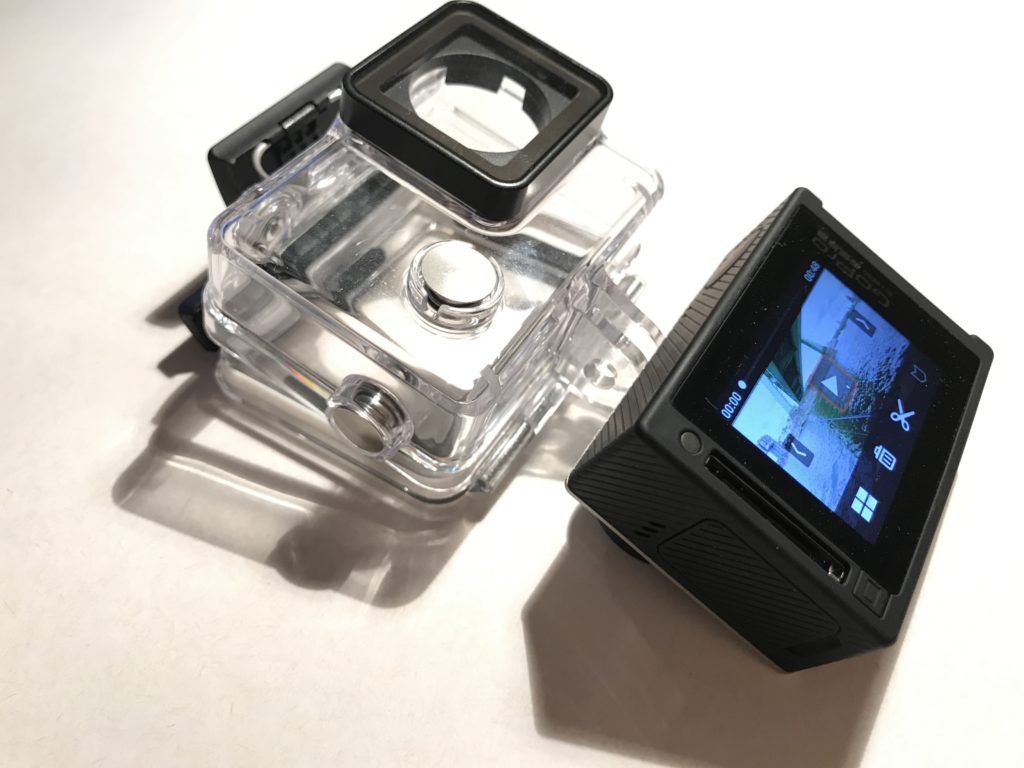 Memory Card – GoPro Spearfishing
Now missing for your GoPro is only a memory card with which you can use for endless filming. I myself use a San Disk Ultra 64 GB. The GoPro can film with this card in HD resolution (1920 * 1080) almost 4 hours straight. That makes it relaxed, you do not have to turn the camera on and off before every shot, but you can just run through it and cut out the good scenes at the end. The best part is that the chips are completely waterproof, should it happen that your camera will run down, the chip and the recordings will survive, even for years. I once found a 5 year old camera, the chip and the recordings had survived.
You will find the 64 GB cards cheaper than the media market, including card reader adapter on Amazon:
SanDisk Ultra 64GB microSDXC Memory card + Adapter up to 100 MB/Sec., Class 1 – suitable for GoPro Hero*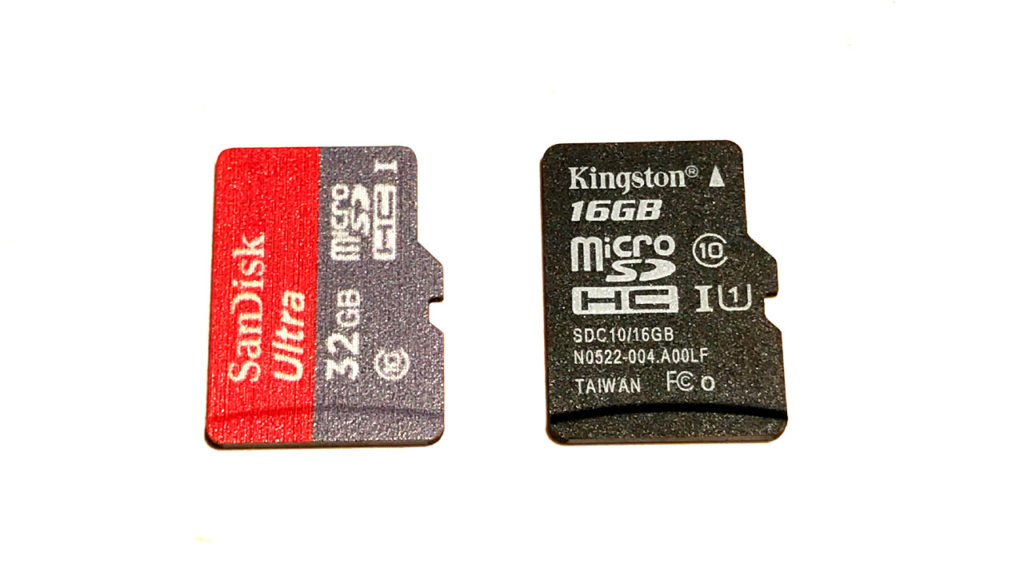 Cressi Spearfishing Goggles – GoPro Attachment
I was looking for the perfect spearfishing glasses for a long, long, and very long time. I finally found her on my last spearfishing holiday in Denmark. These diving goggles fulfill all the wishes you can have on Diving glasses for Spearfishing. It has a black silicone, this reduces the sun's radiation from above and allows you to see more fish. The disc is made of tempered glass. It just does not fog up, the anti – fog glass works perfectly. The glasses have a low internal volume, essential when diving at a great depth. The scuba mask is wonderfully processed. The candy on the cake is still the GoPro attachment on the glasses, which is verscheißt with the frame. If you do not run with your glasses against a wall, this bracket will last forever. The glasses cost just 50 €, a snap compared to some other Spearfishing diving mask that circulates out there.
The Beauty for the Beast you will get on Amazon:
Cressi Action – Diving Mask with Adapter for Action Cameras – Best Scuba Mask for Spearfishing*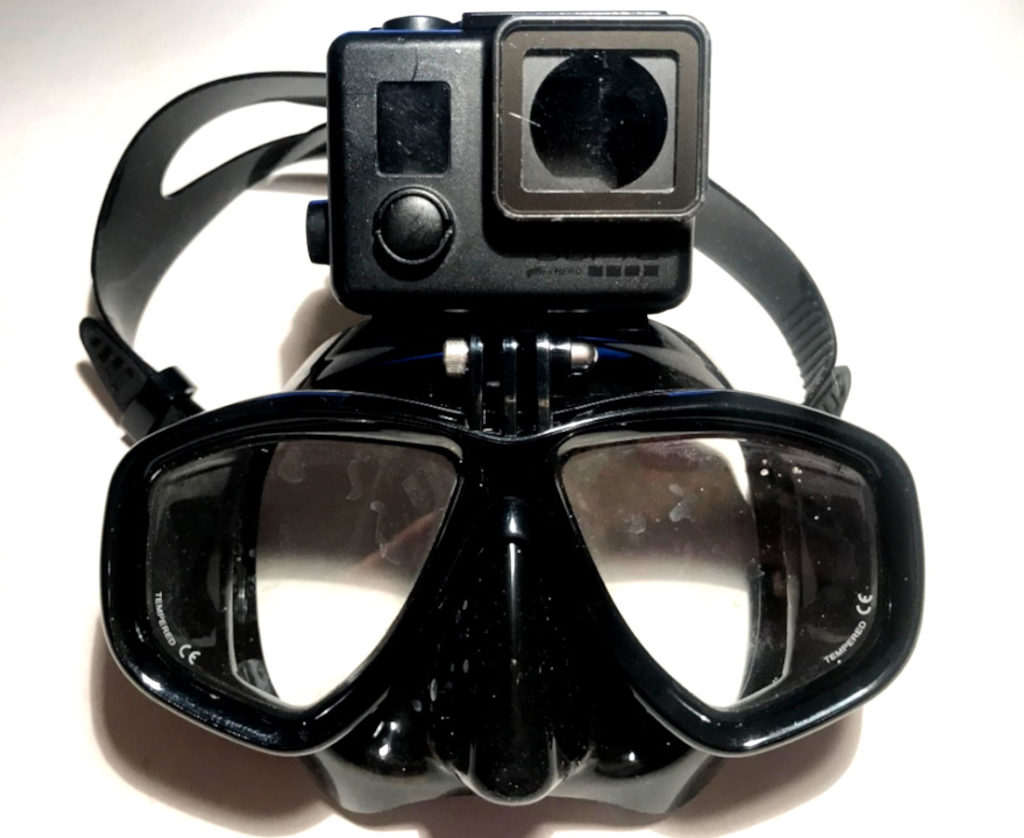 GoPro Attatchments – Equipment Set
Furthermore, I recommend you a so-called Equipment Set for the GoPro, this contains all sorts of brackets that you can imagine. From the windshield suction cup to the chest or headgear. Numerous joints, adhesive pads, diver buoys for the GoPro. Tripods and more. It also fits all the other classic actioncams like the Rollei or the Apemann. The best thing about this mount, equipment set is its price. The set is already available for less than 20 € and I have not regretted to have bought it today. My entire film equipment including extra case and charging accessories will find plenty of space in the bag.
Also a great Christmas present or birthday present:
Neewer 50-in-1 Action-Camera Equipment-Kit für DJI OSMO Action GoPro Hero 6 5 4 3+ 3 2 1,Gopro 7/6 ,Hero Session 5 Black AKASO EK7000 Apeman SJCAM DBPOWER AKASO VicTsing Rollei*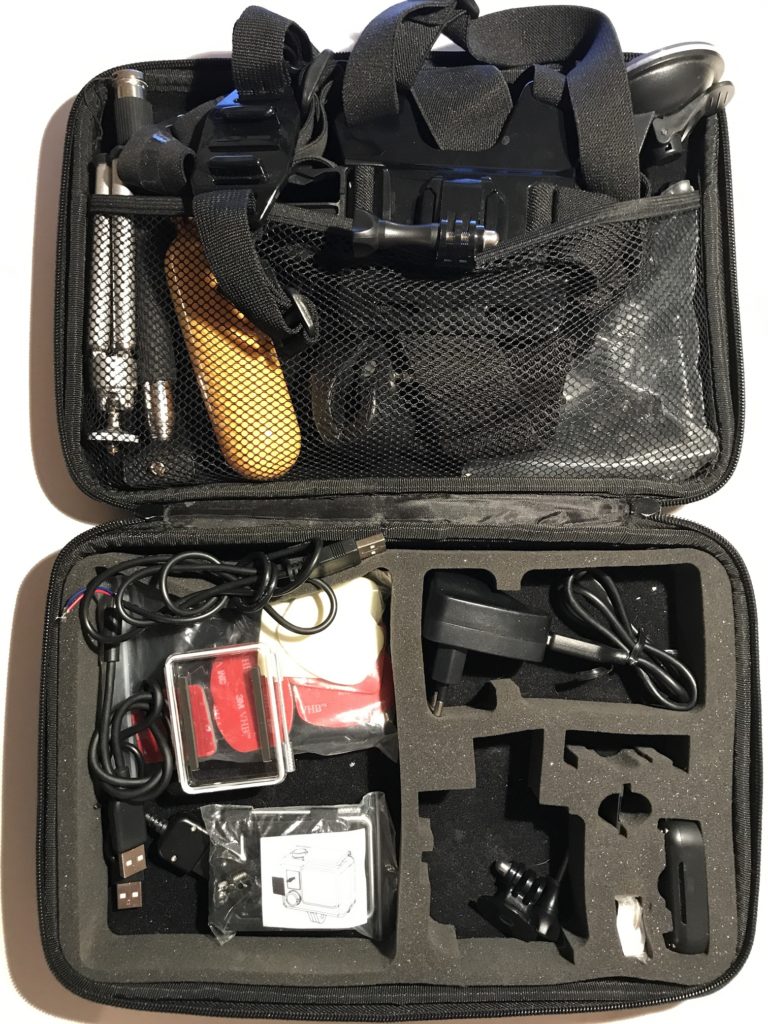 ---
Equipment Backpack – Dry Bag for Spearfishing
Last but not least, you need a backpack to transport all the equipment in one piece to the water, because you often can not drive to the water by car. In the past, I often used a simple sports bag myself, but quickly realized that the straps cut off my hands and it's a rough job to get all the stuff at 30 degrees to the water. A few years ago, I found the best solution, in my opinion, the Cressi Drygara dry backpack. It is concipated only for Spearfishing and Apnoe Diving.
It is a duffel which can be closed watertight, in addition, the backpack offers a finholder and a gunholder, so you do not need to take the harpoon and fins awkward in the hand. The backpack is really huge (60 liters volume) and is able to take all the equipment from A to Z (long suit, etc.). I can recommend this backpack unreservedly.
And one last:
Cressi DRYGARA, Duffel – Dry bag – Backpack for Spearfishing – 60 L*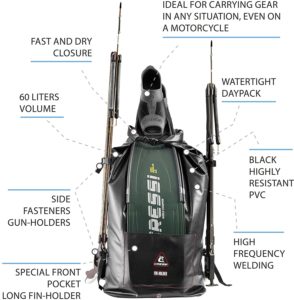 The Speargun
Now we come to the heart of the hunt, the harpoon. There is so much to note and so much different selection of brands and spear gun types, that I have written a very detailed article, which I would like to put to every beginner and advanced: