How to fly with your Speargun in an Airplane – the solution
---
---
Traveling with the Speargun – a problem or not?
The transport of the equipment often presents most spearfisher men with a big question mark. Taking the Speargun on on the plane is, however, overwhelmed by most people. It is not a problem to carry the Spear gun with most airplane in the European Union (Airline i have tested: Ryanair, Lufthansa, Vueling, Easy Jet, Eurowings, KLM, Thomas Cook, Tuifly, Airberlin (or soon no longer Airberlin)).
If it is not just a 4 kg, 140 mm wood harp with an even longer arrow, the solution is to purchase a so-called "Pencil Bag" from the golf accessories. These are often purchased on relevant Internet sites (Ebay, Amazon) for small money. These bags are reinforced by hard plastic and prevent the bending of the contents. Often I myself have already transported up to three spearguns without announcing sport luggage (usually 50 € surcharge). It is enough to straighten the bag to its regular luggage with a tensioning belt or similar.
The nice ladies and gentlemen of the luggage reception will checkin the luggage and send you to an extra counter for "heavy and bulky luggage", which usually means a time loss of 10 minutes, more not. In the case of X-ray control, simply enter "Harpune / Speargun for fishing" and off you go on vacation. The baggage will be unloaded on arrival at regular intervals. However, do not be alarmed if your luggage takes a little longer. Heavy baggage and special baggage are often unloaded at the end (but the 10 minutes are worth it).
I use the following Pencilbag:
Golfbag / Pencilbag / Travelbag/ Rangebag / Pistolbag / Carrybag with integrated plastictube

My Luggage look like this when i go for the counter, never ever had a single problem: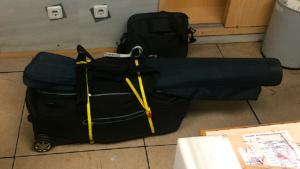 ---
---
International
Here caution is advised, especially in the case of intermediate stops in countries where spearguns are prohibited. For example, if you are flying to Australia or New Zealand with a stopover Japan, it may happen that a loaded collector's customs officer will receive you when changing trains. Here as always: inform in time and possibly obtain permission and possibly call the airlines. I heard of cases that people got stopped over in singapore on their way to asia because they had just spear tips, spears in their baggage and i can give you one advice: asiens are strict to rules, very strict!
Not all countries of the world know this hobby and it would be a pity to deal with anger, let alone miss their connecting flight. The risk is too high to be interrogated, just because you have not been sufficiently informed in advance.
Spearfishing Guide & Spots
Are you still looking for spearfishing spots in your holiday destination in Europe? Then I recommend you my Spearfishing Guide with more than 130 spots and a lot of important information about Spearfishing. In my shop it is also possible to buy guides for individual countries (Greece, Norway, Spain etc.).