Tutorial/ Guide – How to build your own wooden Speargun
Nice that you found my site, here you will find everything about how to build a Speargun (DIY self-construction) and many other Spearfishing related topics. This blog article is about which tools and materials you need to build a wooden speargun (Speargun Do it yourself). Under the menu item "Speargun building – step by step – Video Tutorial" you will find below detailed video guides created by me on Youtube, which will help you detailed to buil your own gun.
There are three levels of difficulty, with tooling requirements, skill and accuracy increasing with each Speargun. If you have any questions, just post it here in the comments or on Youtube under the video and I'll answer soon, promised!
And if you find yourself a DIY project too time expensive (build a reasonable harpoon itself takes quickly 50-100 hours) I recommend my contribution to the purchase of a harpoon:
---
Materials for the Build
Here you will find a list of the materials you need for your construction. Here I go first to the most important materials. For a Starter Speargun or Mini Speargun or even Halibut Speargun you dont certainly need carbon or fiberglass, but if you want to work professionally, working with carbon gives you the right difficulty. All Spearguns that I have built so far are made of teak wood and that has a good reason. If you've bought teak wood and some epoxy resin since you've come two giant steps closer to your own harpoon.
---
Teak Wood
The african Teak has significant advantages in opposite to other wood species. Naturally teak has a particularly high oil and rubber content. This makes teak especially weather resistant. It is no coincidence that teakwood has been used in boatbuilding for many decades, and that's exactly what we're making use of. Teak wood does not absorb water. The African wood is very stable and on the other hand has a density that makes it float in the water, but not so that it floats like a buoy. All around it is perfect for a wooden speargun. For a laminated Speargun (see tutorial for professionals) you need about 3-4 teak slats. The slats are laminated so that you get a wooden strip of about 6cm * 4cm * 100-130cm in length, depending on how long the speargun should be to the end.
You will receive teak, which is also suitable for boat building and thus also for harpoon construction on Amazon. This one has a very reasonable price, and for a clever harpoon you need 2-3 of these teak boards:
Decking parquet – Teakwood, 95mm wide, 19mm strength (120cm legth)*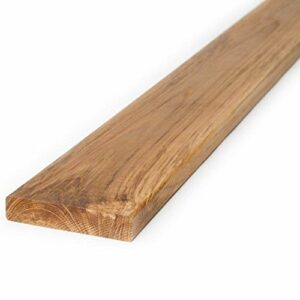 ---
Epoxy Resin
Epoxyresin is the glue that holds our harpoon together for a whole life. There are many adhesives, but epoxy resin is simply the best for building of a speargun. Epoxy does not soften in the water, epoxy sticks incredibly strong after curing, it is still not fragile, but also has a certain elasticity. I recommend from many DIY projects I have done until now the following: Resinpal 2302, a german epoxy resin. It was developed, among other things, especially for boatbuilding, also applies perfectly in our topic again, this is optimal for our Speargun. For a reasonable Speargun you need at least about 500 ml of resin, but these should be enough. The resin, including hardener can also be found on Amazon:
Epoxy Resin – Set: 1 kg Epoxy Resinpal 2301 + 0,5 kg Hardener + Mixing Cup + Stirrer*
---
---
Tools for building a Harpoon
Certain standard tools, such as screwdrivers, a hammer, files, saws, and emery paper, and a drill with a few drills are, of course, needed to build a decent Speargun. I just want to enumerate the things that are optional but produce a much, much better result. The purchase of this is very worthwhile in the long run.
---
Carpenter Plane
I had never ever had a jointer plane in my hand before i started building Spearguns. Now I'm one of the biggest fans of this tool. I bought an old used one at a flea market, later I switched to a new one. The planer is needed to give the harpoon the right shape. With a planer you have given the Speargun a good shape in less than an hour. How to set the planer correctly, you will find detailed instructed on Youtube, how you use it in the construction of your Speargun you will find in the 2nd and 3rd video tutorial. I recommend you a simple and cheap standard planer, this should be ok for all upcoming work. The planer needs a wide cut surface as the only requirement, I recommend the following planer (also available on Amazon):
Connex – Standard Planer – Carpenters Planer 39mm wide*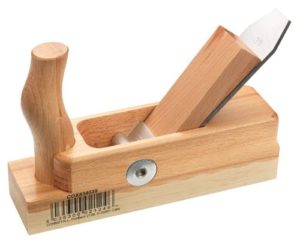 ---
Router
A router is there to mill the groove (rail) in the harpoon, in which the harpoon arrow is inserted. This groove ensures that the arrow leaves the Speargun precisely and hits its target. The less accurate you work on the rail, the more imprecise the Speargun will be, so you should not let it lack of work here. Furthermore, you can use the router also to form the harpoon very accurate, demolish or mill the shaft for the trigger mechanism (trigger). In my first two tutorials, I have not used a router, but in the third guide already, this has made a lot of relief. In the last tutorial you will find exactly the application of the router. I myself use the following milling machine (yes, again Amazon).
Arebos Router Wood milling machine – Mortising Router – 1200 Watt incl. 12 Mills*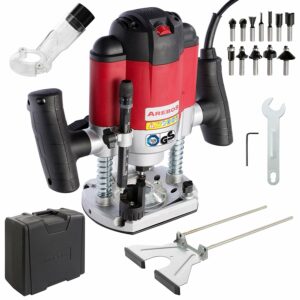 ---
Angle Grinder
With an angle grinder (also called Flex), I have virtually built my entire first Speargun. It should be noted that when sanding hardwoods and woods in general always a mask must be worn. If wood dust gets into the lungs, it can cause lung cancer and fibrosis in the long term (it is called a carcinogen). The angle grinder can be used to precisely adjust the handle of your Speargun to your hand. Thus, the harpoon becomes a real tailor-made and customized art piece. A flex is not expensive, but really worth it. If you grind the grooves for the Speargun rubber in a few seconds. One should always be careful, what milled once is gone. Ideally the Flex works with 120 grit grinding wheels. Flex (Bosch quality product) and grinding wheels can also be found at Amazon:
Bosch Professional Angle Gringer GWS 7-125 (720 Watt)*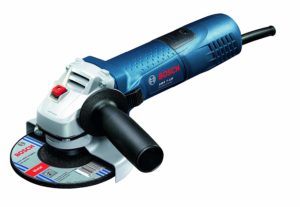 10x SBS Grinding wheels ø 125 mm – 120 Grit – Brown – Grinding Disc – Sanding Disc*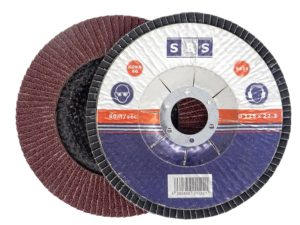 ---
Speargun building – step by step – Video Tutorial Guide
Here you will find my three tutorials that I have created so far and as mentioned earlier in ascending difficulty. The demands on materials and tools increase with every guide.
---
---
Beginner – Teakwood Speargun – 100 cm
This harpoon was the first professional harpoon I built. From the tool requirements, it is easy to rebuild it and all in all you can build the Speargun for 100-200 €. The result was stunning for the comparatively low workload.
---
Advanced – Teak, Carbon Speargun – the Workhorse – 115 cm
This speargun is my one and only. Although she is a bit rough, she is incredibly precise and powerful. In addition, the harpoon is tared so perfectly that you just float in the water, a true dream. You can find the harpoon in numerous videos on my Youtube channel and you can convince yourself of the qualities there. Often I've been asked if I would like to sell this Speargun with offers up to 800 €. But let me tell you, if you ever shot a fish with a homemade speargun, you will NEVER want to sell it. The requirements for DIY rather for advanced. But if you do not have two left hands, you should be able to build them without problems.
---
Profi – Teak, Carbon, Glasfaser – laminated Speargun – 125 cm
This is my last Speargun I've built until now, I've put a lot of care and attention into building it, so the project cost me a long time. The result has become incredibly good and comparable to purchased wooden harpoons. The gun was originally planned as a big fish Speargun and halibutspeargun for my Norway holiday (click me).
If you want to build a professional harpoon, this tutorial is the right place for you.
---
Spearfishing Spots – Guide
I have written a long guide, which you can buy in my shop. Here you will find a lot of basic things about spearfishing, useful links and tips and above all a tutorial on finding spearfishing spots and creating your own spearfishing map. This will help you to improve your hunting quickly and efficiently, and above all, not to go home empty-handed.
Furthermore, you will find many different spot cards from all over Europe, which I have collected over many years.
Harpune.info – Spearfishing Guides & Maps