First Speargun- Which one shall I buy? Review
This article is about your First Speargun what you should consider if you want to buy a Speargun and would like to have a test report and review on it. Of course everybody thinks, this is just another advertisement blog. So let me introduce myself. My name is Chris and I've been Spearfishing almost 15 years from now, I started this blog because at the beginning of my passion I faced so many questions that the internet did not know the answer to. Meanwhile, I think, I know very much of this topic and convey my knowledge to all the enthusiasts out there.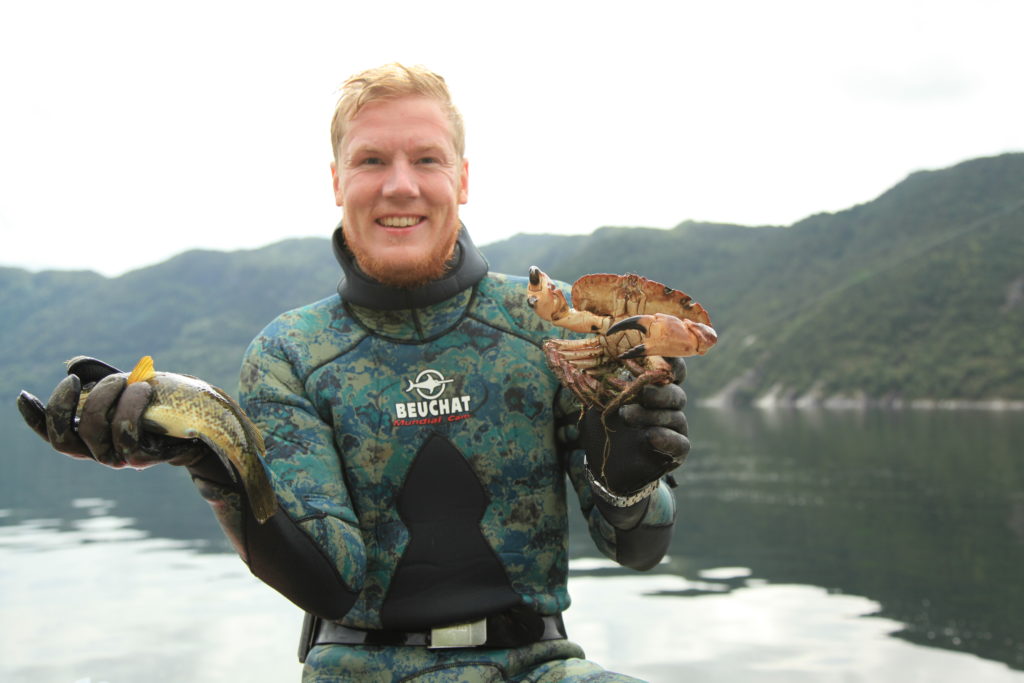 ---
Spearfishing – FAQ
I want to answer here a couple frequently asked questions that are upcoming from time to time.
What is Spearfishing?
Spearfishing is the hunt for fish with the help of a Speargun. When snorkeling or freediving using the speargun to fish is very selectively. There is no by-catch like with other fish methods (fishing). Only the fish is shot, which is big enough and above all tasty. Fishing with a Speargun is not as easy as it sounds. It is much more than diving and pulling the trigger. You will find all the necessary information in my blog.
What is a Speargun?
The Spearguns used for spearfishing are compressed air or rubber-powered underwater weapons. A metal arrow, which is held in the Speargun by the trigger. Accelerated after triggering the Speargun using the compressed air or the rubber bands. Due to its weight and speed, the arrow develops a very, very high impact force after firing. Depending on the Speargun, this is enough to penetrate several centimeters of wood. Spearguns are not a children's toys and mishandling can be lethal.
What is a harpoon (Whale hunting)?
These have nothing in common with the harpoons which are used for spearfishing. Whaling Harpoons are explosive arrows that are fired into the whale.
How does a rubber banded Speargun works?
A rubber banded Speargun works much like a crossbow. The accelerating energy comes from the 10-20 mm thick rubber bands. These "rubber bands" are preloaded by muscle power and locked into the trigger fixed arrow.
What is a pneumatic Speargun
A pneumatic Speargun uses compressed air to accelerate the arrow. The air inside die Speargun dont get lost, during the shot, the Speargun is more like a piston, which is compressed with the arrow and remains in locked, cocked position. In this article you will find much more about the functioning of pneumatic harpoons.
What is the shooting range of a Speargun?
Good spearguns have an effective range (in which it is realistic to shoot a fish) of 4-6 meters. The really effective Speargun range, however is only 3 meters. Thereafter, the speed and projectile energy is no longer enough to hit a fish. Often the fish are faster than the arrow. The closer you get to the fish, the more likely you will get it. That's exactly what makes Spearfishing so thrilling and alluring.
Is the possession of a Speargun legal?

Yes, the possession of a Speargun is legal from 18 years on, in Germany. Quotation of the weapon law of the information system of the Federal Republic of Germany WaffG – Waffengesetz: "arms completely or partially excluded from the law
Subsection 1: Weapons excluded from the law with the exception of § 2 (1) and § 41: 1. Underwater sports equipment in which ammunition is not used to propel the projectiles (Spear gun). "
Is a Speargun dangerous?
There is only one clear answer: yes. Handling should be learned. Anyone who has ever seen a Spearguns hits through a 5 cm wooden board can well imagine what you do to a human leg. There are numerous accidents all over the world, quite a few ends fatally, a harpoon is not a child's toy and should never be treated as such.
Is Spearfishing legal?
This varies from country to country. Each country has its own legislation. In Germany, spearfishing is prohibited in both freshwater and saltwater. Possession yes, hunting no. It's that simple. Please do not come up with the idea to go into a lake with a Speargun and try out the Spearfishing, you have more serious problems faster than you can pull the trigger.

An article on the legislation in the other European countries can be found on my blog (Click me).
---
Start Spearfishing, where should I begin?
Many years ago, I was about to buy my first Speargun, thousands of questions are buzzing through your head:
What to look for whe buy a Speargun?
What is the optimal length of a Speargun?
Which Speargun fits my hunting preferences?
What is the price of a reasonable Speargun?
What about Tests and Reviews?
It took me many years but I think I have understood until now what is important in a good Speargun. I have all my processed all my experiences in a video and summarized what you should look for when buying a Speargun. It covers all topics such as length, pneumatic Spearguns, materials, arrows, rubbers, rails, reels, prices, cords, accessories and much more.
I hope I can help with the choice of the first Speargun.
It's hard to get started, so here's a little guide, recommendations and tips through the Speargun jungle (best Speargun, cheap Speargun, Spearfishing gun, best all around Speargun, small speargun, etc.)
---
Beginner Speargun – the Seac Sub Sting
Seac Sub Sting – Buy where?
If you are looking for a cheap small Speargun to test the whole thing on holiday once you are at the right place with that one. The Speargun offers everything for the first 1-2 underwater adventure, but not for more. You can order the harpoon in different sizes, if you have seen my video I advise you a 75 cm.
Fast and cheap on Amazon:
Seac-Sub Speargun – Sting 55 – 75*
Seac Sub Sting – Pros
An absolute novice device, why? Continue reading!
First of all it is really really cheap
It shoots, not far, but it is enough to get to know the underwater hunt
And right here I see the advantage of the Speargun, if you realize that you can not dive 2 meters deep, you have not thrown too much money through the window.
Seac Sub Sting – Cons
If you seen my video above, you will recognize by the pictures
Lots of plastic, no open head system, no rail, no reel, no joint Wishbone etc. etc.
This Speargun impresses with its price and I also started with such a harpoon
Seac Sub Sting – Conclusion
Do you want to test the hobby, I think there is no cheaper way to tackle the whole. Since you have been in a little longer, I advise you not to buy this speargun.
---
The Speargun for advanced – the Mares Viper Pro
Mares Viper Pro – Buy where?
Let's get to the Advanced Speargun, the Mares Viper Pro. This Speargun is not all that cheap with its 150 Euro but it offers everything a speargun should have in my opinion. If I ordered this gun, I would probably order a 100cm. If you have seen the video, you can compare it yourself.
Here cheap and quickly available (again Amazon, I have compared the prices of several pages):
Mares Harpune Sling Gun VIPER PRO*
Mares Viper Pro – Pros
Along the entire length runs a guide groove for the arrow. The so-called rail.
The head of the Speargun is the open type (open head), this allows to use arrows with Shark Fins.
It is possible to attach an additional speargun rubber.
The trigger mechanism is made of stainless steel. The trigger sensitivity is adjustable.
A line release of metal
Circular rubber band diameter 19 mm with Dyneema snap hook -> Very healthy for the fingers!
Tahitian arrow made of stainless steel 17-4 PH-, Ø 6.5 mm., With pins (similar to Shark Fins). The re-hook is on the bottom.
It is a Speargun with reel, it is equipped with a vertical roller. The harpoons Viper Pro 75 and 90 have the role of vertical Spiro 65, the harpoons Viper Pro 100 and 110 – the role Vertical Spiro 87
Conversion to closed head possible
Mares Viper Pro – Cons
150 € is not cheap, but the number of features this Speargun brings a very fair price
If you do not understand what's up there and do not know what it means, this Speargun is probably a little too much for you. As I said the Speargun is more advanced.
I can not find a single failure in this gun
Mares Viper Pro – Conclusion
If you want to continue Spearfishing, this Speargun is the perfect thing. She has many good qualities and has everything you need more professionally Spearfishing. The price of 150 € may deter you at first, but in my opinion this money is well invested. For me, the Mares Viper Pro is clearly the Speargun test winner in terms of value for money. It is better to buy the Speargun directly to gain a reasonable Speargun, instead of the first cheap model replaced quickly by a neat.
---
---
The professional Speargun – the Cressi Cherokee Ocean
Coming to the professional league of spearfishing, the Cressi Cherokee Ocean is definitely a Speargun with which you can fish a lot for a very long time. Rather, you will lose the fun of Speargun before that harpoon gives up its spirit.
Cressi Cherokee Ocean – Buy where?
The good piece you get here (here Amazon has in terms of price and delivery time at the Speargun its nose ahead):
Cressi Speargun – Cherokee Ocean – Double banded – 90cm, 100cm, 110cm, 120cm*
Cressi Cherokee Ocean – Pros
This Speargun belongs in any case in the professional Speargun area, which can be seen quickly with a knowledgeable look. All in all, the harpoon is just great, great work and very well designed. When I see how far behind the trigger sitting in the handle makes me my mouth watering (far back, the more drawing length for the rubbers, the more power). The Speargun is available in all sizes, but not in children's sizes. For the Mediterranean, I would aim for a harpoon between 100cm and 120cm, according to the motto "length runs".
The Gun has the following to offer:
The barrel is made of alloyed aluminum and has a rail along the entire length (guide groove) for the arrow, a prerequisite for absolute precision. In addition, the barrel is in Elipsen- form given that provides additional rigidity of the tube.
The Speargun head is of the open type and allows the use of two rubber bands of the circular type (2x 16mm elastics are included), this provides the necessary power
The Speargun handle is rubberized, no slipping is possible and is suitable for both right and left-handed the trigger is accessible from both sides
A line release is attached to the side, it is mounted by default on the right, but can also be mounted on the left
The trigger of the Speargun sits particularly far back, thus ensuring a maximum long path of the rubber bands. The trigger mechanism is made of stainless steel, which is produced by means of laser cutting. Every detail of the trigger is polished
Two 16 mm circular elastics with Dyneema snap hooks
The arrow is made of hardened stainless steel 14-4 PH, diameter 7mm, three sharkfins, a shark fin has the opening of the monofilament attachment
Installation of a Cressi Speargun reel is possible without any problem, every Cressi standard reel fits on the reel holder
Cressi Cherokee Ocean – Pros & Cons
With this Speargun I just can not say much negative, at the price of 240 € -270 € (depending on the length of the harpoon), you could expect a reel. But you do not have to. The Speargun can be easily outfitted with any Cressi roll.
The price is in the design, the processing and above all the good parts justified (only the trigger costs as an item about 70 €). Lets come to the point, if you buy this speargun, you will have fun with it for the next 20 years.
A fitting Reel
I would not hesitate long and order a suitable reel for the Speargun, then you have it out of mind and if you need it is at the Speargun. The reel is nothing special, but it works and does not tear a huge hole in your wallet. With 1.5 mm cord diameter, you get 25 m string on the harpoon, with 1 mm even more. This is certainly enough for any fish in the Mediterranean (except for the 300 kg of tuna, but find that one first).
The reel is available on Amazon for less then 24€:
Cressi Speargun Reel – 25m string capacity (1.5 mm string)*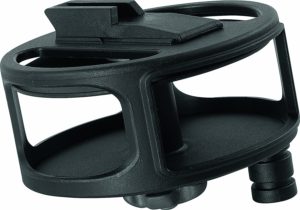 ---
Buy a pneumatic Speargun
Before I give you recommendations for pneumatic harpoons, I would like to say a few words in advance on the subject of compressed air Spearguns in general. You should have read this chapter in any case, before you blindly choose a harpoon, because you have to pay attention to many subtleties.
How is a Pneumatic Speargun working? – Operating principle
A pneumatic Speargun is a (as the name already suggests) filled with compressed air pressure cylinder. The air is filled by means of a, usually supplied, compressed air pump via a valve in the pressure cylinder, this produces up to 70 bar in the cylinder, this is not a number of bar where you should make failures. In this compressed air cylinder is a piston, which is compressedthe arrow against the pressure prevailing inside. If the arrow has been pushed in to the end, this piston / slide engages in the trigger and the Speargun is ready to fire. That sounds complicated now, but it is not. Here is a small, simplified diagram: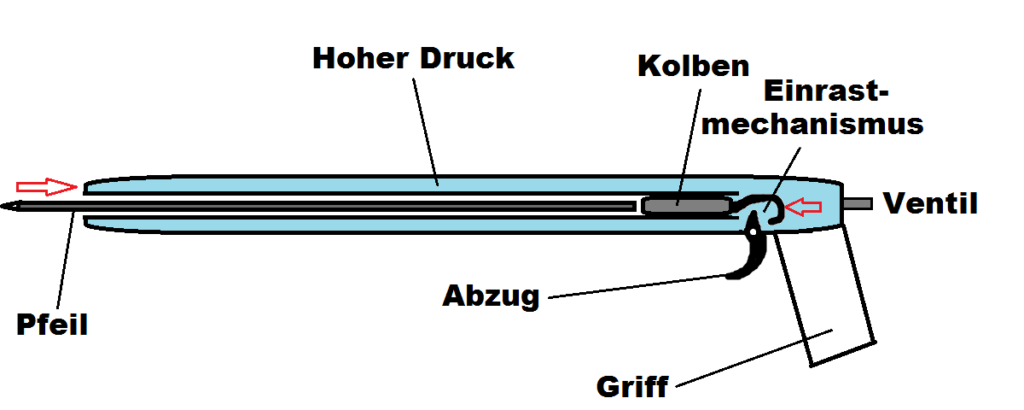 How often can I shoot with a pneumatic Speargun?
I'm honest, I can not remember how many times I've been asked this question, too often. If the compressed air speargun is tight you can shoot at least 50-100 times with a piston filling which requires about 200 bumps (depending on the pressure and the Speargun) with the pump before you have to refill the speargun. This is due to the fact that the arrow is only compressed towards the piston (see graph above). With each shot, a little air escapes, but just so little that it is enough to pump the Speargun once every 2-3 weeks.
Pros und Contras of Pneumatic Spearguns
Let's get to the short pro side of these Spearguns: They are very powerful and also pretty accurate. It was in my opinion already on the pro side.
Now for the slightly longer contra list.
Due to the construction of the Speargun, it is also very prone to malfunction and needs to be serviced often. The many seals want to be oiled regularly and checked for fragility. The inner piston is exposed to unbelievable forces when firing and that's why it often breaks down. In an rubber Speargun nothing breaks and everything could be replaced quickly, to change a piston at a compressed air gun, you are not able to do it without tools in the hotel.
Flying with a pneumatic Speargun
All airlines in this beautiful world are not in love with two things at all, firstly terrorists and secondly pressure vessels. In EVERY condition of carriage of an airline (Lufthansa, Eurowings, Ryanair, Condor, EasyJet, KLM) it is stated that pneumatic harpoons are not transported or if they are only transported in the non-inflated state. Now, when you give up your luggage and the good security officer asks you what that big metal tube is in your suitcase, be on the lookout for stress.
Loading a pneumatic Speargun
All beginners always flirt with pneumatic Speargun, because they think they are shooting with compressed air and thus they escapes the tension of a rubber Speargun. Anyone who thinks that did not understand the principle. Imagine you have a 1.2 meter long compressed air chamber and a 1.4 meter long arrow. When loading you put now this 1.4m arrow in the FRONT of the 1.2 meter long Speargun, right you have when loading a 2.5 meter long metal rod in the hand.
The trick here is to hold the Speargun handle with your feet and then press the 2.5 meter distant tip of the arrow against the 70 bar boost pressure. I tell you this is not easier, this also requires an insane power (although again, the technique is king).
A Pneumatic Speargun - Review: Cressi Saetta
If you decide to buy a pneumatic Speargun, please have at least a quality product. Cressi stands for tradition and reliability. In terms of the length I advise you at least 70 cm, everything below is a toy and will not give you much joy. It is important that you buy the speargun to NEVER shoot it on land, then you can also burn your 150 € directly, the Speargun will be destroyed after a few shots.
Conveniently, the Speargun is available here
Cressi Saetta - pneumatic Speargun for Spearfishing*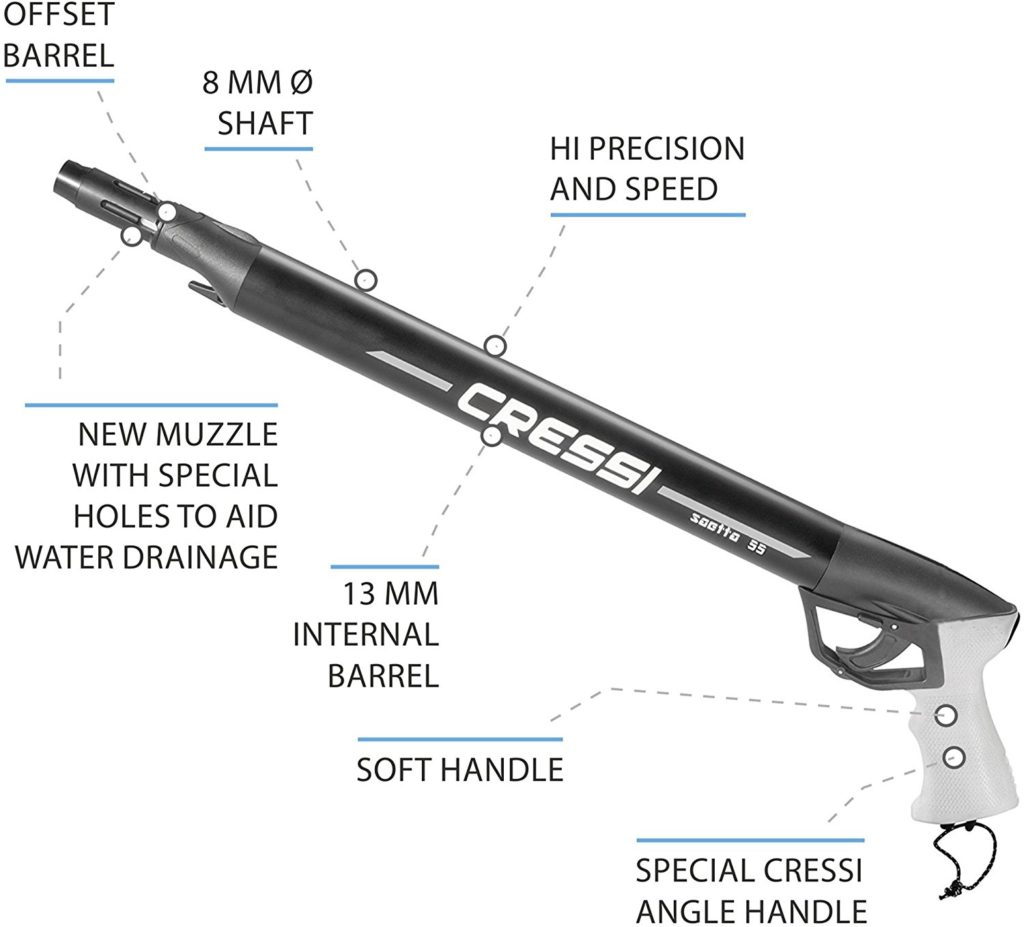 Second, make sure that you provide the Speargun with a rig. The arrow must be attached to the Speargun with a rope, otherwise you will do the same thing as this highly intelligent Amazon user (I did not know whether to laugh or cry during the search) :

---
My Speargun of dreams - the Bluetec Oceanborn
If I could pick a Speargun from all over the world, it would be the Bluetec Oceanborn. The Speargun is made from a single carbon body and comes with a 5 year guarantee for the stock and a lifetime warranty on the trigger mechanism. Hot? hot! This Speargun is designed for power and accuracy. The total package for a 140 cm Speargun amounts to 1011 €.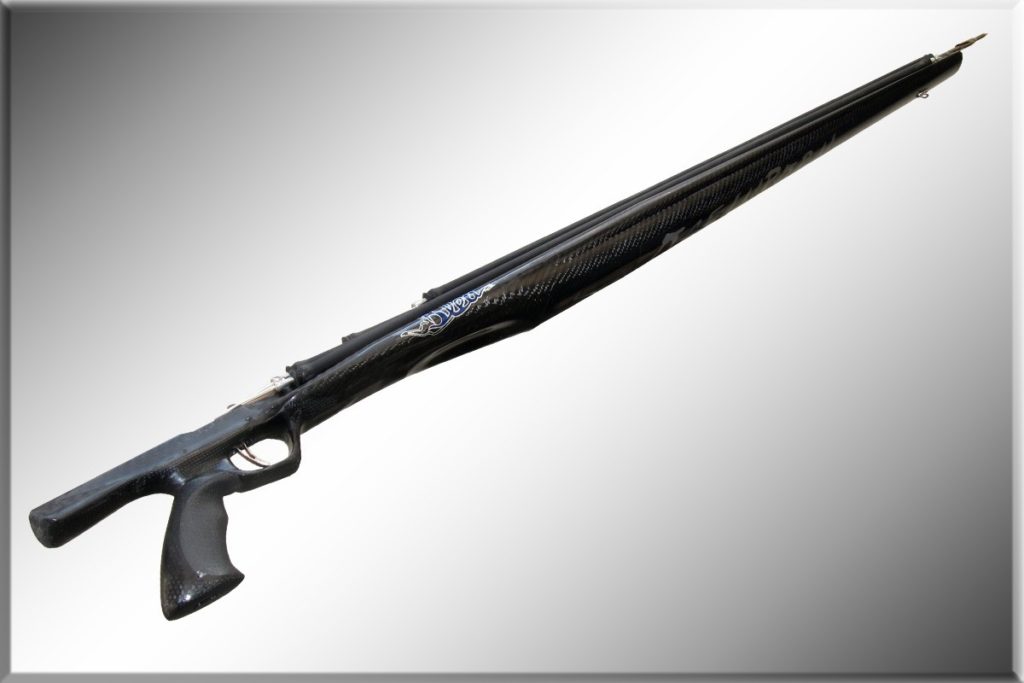 ---
Which Speargun brands|manufacturers are there?
Many, many companies produce Spearguns in Europe, few of them good, exceptions very good (and they have their price). The more you pay, the more you get offered. I would like to list a few companies that deserve to be mentioned in my opinion. The following information refers to my previous experiences and impressions. Some names should be read once before thinking about buying a Speargun.
Lower price segment: Here you will find Salvimar, Yakayasub cheap but perfectly adequate for getting started. The more expensive Spearguns are also very good here.
Renowned traditional companies: Omer, Beuchat (France), Cressi (Italy), Pathos (Greece), Seac Sub, Epsealon. All these companies stand for quality and tradition in the Mediterranean, most of the products of these companies are well designed and processed.
The royal class: Here you can find some of the best Spearguns in the world, prices open at the top, if you are looking for a good carbon Speargun or mahagoni, teak wooden Speargun you are right: Bluetec, Rob Allen, Azure
---
Speargun Setup - Rigging Shooting Line
This section is about what will happen when your first Speargun has arrived at your home: Assembly is about to begin. Do not worry now, you just need to connect the arrow to the reel, but this requires some basic knowledge. That's why you'll find here in detail how the Speargun shooting line setup looks like. The so-called shooting line for rigging the speargun is very important.
---
Spearfishing Spots - Guide
I have written a very detailed guide, which you can buy in my shop. In this Tutorial you will find many basic help on Spearfishing, which you will not find in a 0815 forum. Here are useful tips and links and above all a tutorial for finding spearfishing spots and creating your own spearfishing map.
This Guide will help you to improve your hunt quickly and efficiently and not go home without fish.
Furthermore, you will find in the shop many different spot cards from all over Europe, which I have collected in many years and painstaking detailed work.
Harpune.info - Spearfishing Guides & Spots
This is my last Speargun I've built until now, I've put a lot of care and attention into building it, so the project cost me a long time. The result has become incredibly good and comparable to purchased wooden Spearguns.
Which other equipment / knowledge do I need?
Since this is a very extensive topic by itself, I have written a long blog fot this theme. It handles all the important equipment that you need for your first hunt.
Finally, I would like to present you the official record list from Harpune.info, where you can post your own catches. The team is very happy about your contributions and pictures. I also enter my own catches in this list.